October 1, 2018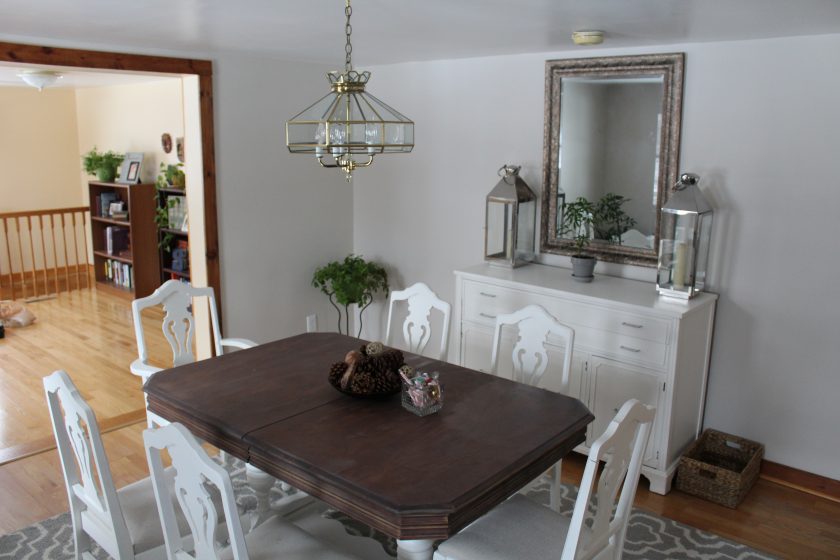 Refinishing A Family Heirloom – Antique Dining Room Table
Last year when we moved to the farm it was finally time to refinish the old antique dining room table my mother had given me a few years prior. Family heirlooms are always interesting, whether a pocket watch or a piece of furniture, we should cherish these relics from the past. I can still remember being a child and playing hide-and-go-seek, with under this table being one of the best hiding spots in the house. The table had a significant amount of wear from the 80+ years of Sunday dinners and board game nights it has hosted in all that time. We wanted to bring this classic piece back to life, but with some modern farmhouse flair. We set out to sand, hammer, paint and stain the table itself, and to sand, paint and reupholster the chairs.
Here's a few pics of how the piece looked before the project kicked off.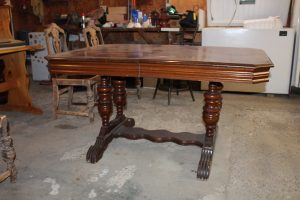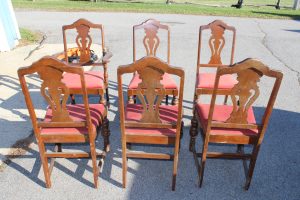 We started by removing the seat cushions from the wooden frames on the chairs.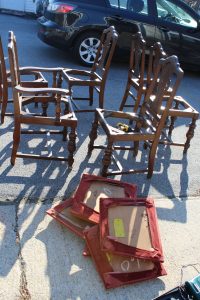 Next we began sanding the old chairs down with an 80 grit circular sander, using blocks for in between the cracks and hard to reach areas. Our goal was to preserve as much of the wood as possible, while sanding out some deep scaring and marking. Then we did the same for the table top, sanding with 80 grit and then 120 grit paper.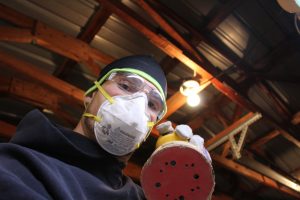 We got most of the top surface with the sander, then switched over to blocks for the edges and detail.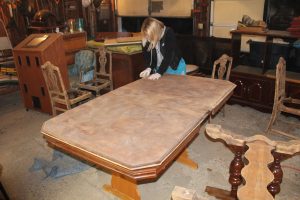 The table legs are incredibly detailed and needed to be completely hand sanded…that one took a while. To make it easier we took the legs right off so we could elevate it and get some good angles with the blocks.
After a few days of sanding and stripping we were able to move forward and begin to refinish. We started by tightening all bolts and reinforcing each of the joints on the chairs. We then moved to painting the wooden frames of the chairs a nice soft white color.
We picked out a cream and white fabric for the seat cushions, quite a contrast from the velvet red that was on there before. We sized and cut the fabric, then just stapled it in over the top of the older fabric. It looked like this process had been done 3 or 4 times over the years.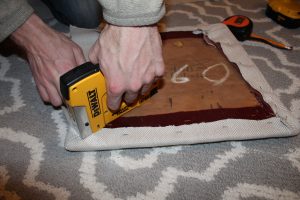 Captain's Chair completed.
All chairs completed.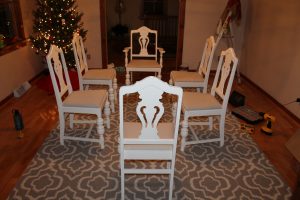 Back to the table. We opted to split the finish on the table to give it a modern, two-tone look. The legs were painted with the same soft white, and the top and sides finished with a moderately dark natural wood stain.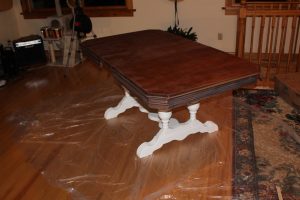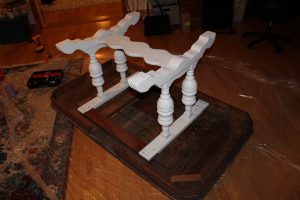 And there you have it…a little blood, a lot of sweat, and about 30 hours later we now have a great place to socialize! We'd appreciate it if you would like, share or comment and let us know what you think! Thanks for reading.
---