June 29, 2018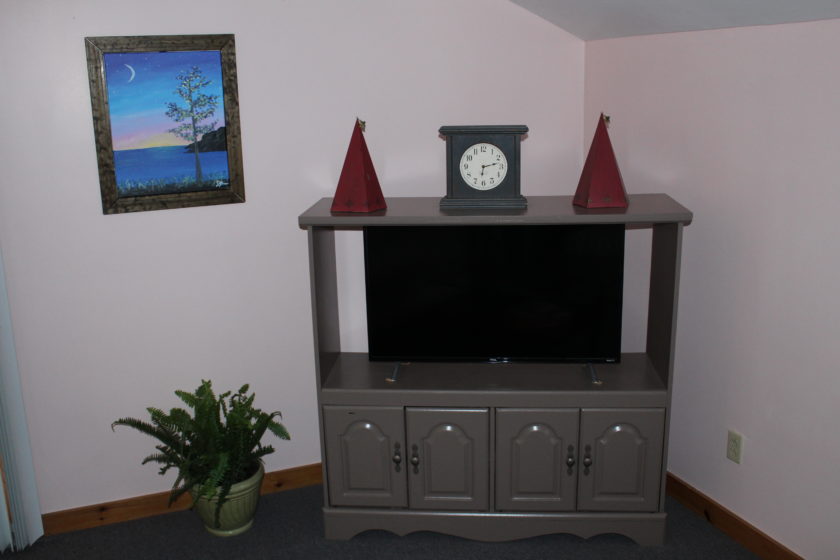 Refinishing an Entertainment Center
Setting up our Airbnb over the winter was a fun and rewarding process, and we had to complete a bunch of smaller refinishing projects along the way. One such project was to refinish an older entertainment center that was given to us. It was in good condition overall, but had many surface scratches and needed a good cleaning after years in an attic.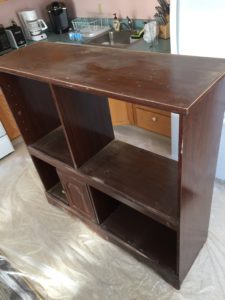 The material is essentially plywood so instead of sanding and re-staining (not worth it on plywood), we opted for a paint job instead. We went to the hardware store and picked up one gallon of Behr and a can of Rust-Oleum for the hardware. Instead of doing all this work in the workshop, we decided to do it right in the Airbnb so we wouldn't have to move it very far after completion. Make sure to always use a drop cloth and open windows for ventilation when doing work inside!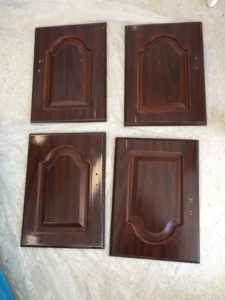 First things first, we removed all the hardware, set it aside, and cleaned it. There was also a set of racks on the left side (presumably to stack DVDs in the old days) so we decided to remove those and the wooden divider to make room for a bigger TV. We put some spackle in the holes where the rack used to be, and over some larger nicks and dings in the piece.
Next, we took the bottom doors off and set them aside to be painted separately. The reason for this was that we wanted to paint the inside of the doors as well and the hinges would have gotten in the way if left them on.
We then sanded down some rough spots and the spackled areas to get a smooth finish. After that, we wiped the whole piece down with soap and water and it was time to paint!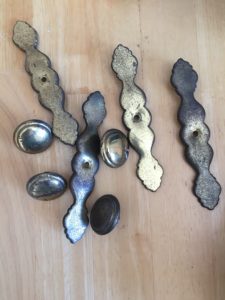 We've had too much experience with painting at this point in our lives so the rest of the job came easy. We worked as a team with one person edging and one rolling for two coats, leaving about 5 hours in between each coat to dry. Two coats of spray paint on the hardware as well.
After giving it about a day to dry (and ordering a new smart TV!) we were ready to put everything back together. All in all, it's definitely an upgrade from how it looked before, and has room for all the essentials, including a spot for a PlayStation and some board games.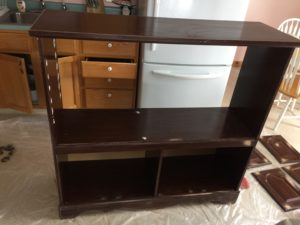 We were able to fit a 40-inch smart TV in there as well by opening up the left side of the piece. One last note, it's a good idea to put felt down under anything you set on top of newly painted furniture. It can take a long time to fully dry and won't ever adhere 100% since you're painting over an older finish. Just grab a few sheets of felt from a craft supply store and cut up some pieces when you need them.
It's great to see an older piece of furniture brought back to life! It's now used just about every weekend. 
---